2010 Inter-circuit Tournament in honor of Fred Dailey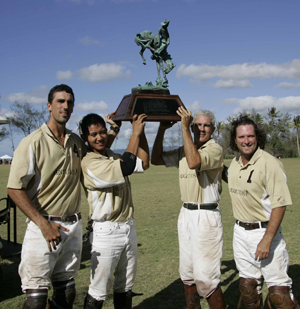 Team Equus Hotel (Devon Dailey, Chevy Beh, Mike Dailey, Chris Dawson) won the 2010 Inter-circuit
Tournament against Happy Trails Hawaii 7-4.
Fred Dailey, father of Mike and grandfather of Devon, along with his wife founded the Hawaii Polo Club in 1964.
As an 8-12 goal tournament, the Inter-circuit is the highest level of the four USPA tournaments played at the Hawaii Polo Club this year.