Chevy Beh represent HK National Team to play in the 1st Asia Snow Polo held in Tianjin, China featured on The Wall Street Journal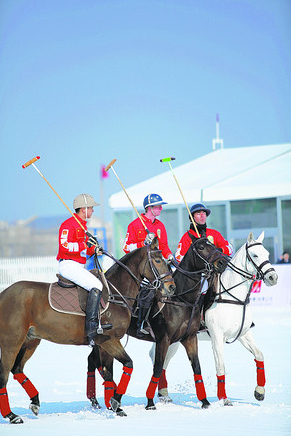 In the booming Chinese city of Tianjin, an hour outside Beijing, a snow machine has been blowing artificial flakes across a 300-meter-long field for the past several weeks. It's not for skiers or snowboarders. This marathon preparation is for a six-day snow polo tournament.
Around 2,000 guests were expected to attend the event — a variation of standard polo that originated in Switzerland and involves three riders on the field, instead of the usual four, as well as a bigger ball. Teams of polo players, flown in from France, New Zealand, Australia, Great Britain and Argentina, will play against a backdrop that resembles an Alpine village, complete with a sleigh rides and an ice-skating rink. The games — which began on Wednesday — will be broadcast on Chinese television, and winners will receive a trophy made by Asprey, the jewelers to the British Royal family.
"Our main objective is to excite the public in terms of the game of polo," said Rowland Wong, president of the Tianjin Goldin Metropolitan Polo Club, an exclusive venue with facilities that include a five-star hotel, villas, luxury apartments, an equestrian center and a spa. The club was developed by Hong Kong-listed property developer Goldin Properties Holdings Limited. Memberships start at 380,000 yuan, or about $57,000 for "social members," and go up to 10 million yuan for "patron owners," or those who own polo teams.
Mr. Wong declined to disclose how many members the club has or how many it is targeting. While official data on horse ownership are hard to come by, there's ample evidence that the country's new wealthy class is beginning to show an interest in horse riding, just as they have lapped up other hobbies and pastimes of rich people elsewhere, such as yachting, flying and driving fast and luxurious cars.
According to the China Horse Industry Association, a government organization established to develop China's equine sector, the country imported more than 1,300 horses in 2010, compared to about 300 five years ago. The total value of horses imported into China ran into the tens of millions of dollars last year, the association said. A handful of polo clubs have also cropped up around the country in recent years, including the Tang club in Beijing, the Nine Dragons Hill Polo Club an hour from Shanghai, and the Goldin Metropolitan club.
The number of recreational horse riders and of horses in China is still small compared to other countries. Although there's already a strong equestrian tradition in the U.S., buyers there imported 40,000 horses annually between 2002 and 2006, according to the U.S. Department of Agriculture.
But while China's fledgling equestrian sector has a long way to go to catch up with other countries, there's plenty of confidence from some of those who are leading the charge. Li Ning, a former information technology industry executive, owns two riding facilities in Beijing, with annual membership fees of more than 44,000 yuan at both locations. Since he opened them in 2007, membership has been growing between 30% to 50% annually, he said. In 2010, 300 new riders joined the clubs, which collectively have 2,200 members, Mr. Li said.
Mr. Li declined to disclose whether his clubs are making money yet. Though he has never actually mounted a horse himself, Mr. Li has been to Spain and Hungary on horse-buying sprees and says he has spent 1.8 million yuan on non-Chinese breeds.
"When I started [five years ago,] some people really did not get it," Mr. Li said while watching a dozen or so riders practice in the arena on a farm he owns in Shunyi, an affluent district in Beijing. "Now they call me a visionary or something."
Many of those looking to tap the Chinese market were present at the China International Equestrian and Horse Industry Fair, the country's largest horse expo, which took place at a massive complex a couple of miles east of downtown Beijing in autumn.
"Our dream is to change their Ferraris for horses," says Nuria Mercader, the Asian marketing manager for Caballos Llargues, a Spanish horse-breeder. Ms. Mercader was looking to sell prized Andalusians, one of Spain's most famous horse breeds, to rich Chinese buyers. "It is maybe a dream. I don't know. We'll see."
When the event was first held in 2007, fewer than 10 foreign breeders participated. At the 2010 event, more than 50 showed up, drawn to the Chinese buyers who walked the expo dressed in business suits and overcoats with Burberry scarves and Louis Vuitton handbags, or in some case wearing jeans and cowboy boots.
"They buy them like they buy Rolexes," said Jack Lubbers, an export agent for VDL Stud, a Holland-based breeding farm that sells fancy Dutch horses specially trained for high-level show jumping and dressage competitions. Mr. Lubbers said that over the past couple of years, he's flown around 100 warmbloods, or specialized breeds of European sport horses, to individual Chinese buyers, new equestrian clubs and soon-to-be-opened horse-riding resorts across the country. At the 2010 Beijing horse fair, Mr. Lubbers sold two horses for about $10,000 plus shipping costs from pictures he had on a laptop.
There are some fears the rapid growth of China's equestrian industry could outpace the development of appropriate skills and facilities needed to properly care for the high-end animals. Huang Zuping, a former businessman who was a member of China's first equestrian team in the 2008 Beijing Olympics, advocates for better education for buyers. "For most people here, I think they are interested in things that are fashionable," said Mr. Huang. "The rich people want to show off something. I have a totally different philosophy," he said.
Some importers are also concerned. "Yes, we worry a little bit," Nils Ismer, owner of the German-based Ismer Stud, which breeds Arabian horses, said. "A lot of people are buying horses and they don't know what to do, how to feed them, how to stable them, so we are a little bit worried, yes."
In Tianjin, the Metropolitan Club's Mr. Wong is plowing ahead with plans for his polo club. Immediately following the snow polo event, he'll join several other executives from the Tianjin club who are leaving behind the snowy polo fields of northern China and flying to Australia and New Zealand with a mission to buy 70 more polo ponies, doubling the number of imported horses at the Goldin club's stables "The amount of horses imported to China is growing every year, and it will continue like that," said Mr. Wong. "With the new Chinese economy people might want to get involved a little bit more."