Junior Honor Teen wins prestigious Argentine Cup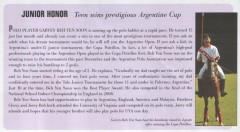 POLO PLAYER GARVY BEH YEN SOON is moving up to the polo ladder at a rapid pace. He turned 15 just last month and already can count a win in one of the most prestigious tournaments. If you ask a child what his dream tournament would be, the Copa Potrillos. In fact, a lot of Argentina's high-goal winning professionals playing in the Argentine Open played in the Copa Potrillos first. Beh Yen Soon was on the winning team in the tournament this past December and the Argentine Polo Association was impressed enough to raise his handicap to 2 goals.
Beh Yen Soon started riding at the age of 2. He explains, "Gradually my dad taught me the art of polo and when I was 6, my dad confidently entered me in my first event, the Tolo Polo Tournament for those 11 and under in Palarmo, Argentina." Just 10 at the time, Beh Yen Soon won the Best Player Award. Recently, he also won the Under 16 UK National 2009 Championship.
Beh Yen Soon has also had opportunities to play in Argentina, England, America and Malaysia. Brothers Chevy and Joevy Beh both attended the University of Virginia and competed on its polo team. Joevy still attends and hopes that his younger brother will also play polo for UVA one day.